At Select Products, we bring our customers a  beautiful selection of conservatories for their Collingham homes. We choose our double glazed extensions not just their exquisite designs, but also their excellent features. Our conservatories from Ultraframe are known for their reliability and useful qualities. In fact, we are confident enough in our conservatory's performance to give you a 10-year insurance-backed guarantee on it.
What's more, we offer a dazzling selection of conservatory extension designs as well as roofs. As a result, you can design your conservatory to blend in with the rest of your property as smoothly as if it had always been there. You can choose a simple but classic lean-to design for that sunny Mediterranean look. On the other hand, you can create vertical interest by selecting a style with a more elaborate roof. The Edwardian conservatory would be perfect for this.
If you prefer a more permanent structure, we offer orangeries as well. Additionally, we provide a range of solid roofs too, in case you want your conservatory to be better protected from the sun or prying eyes. In short, whether you want a replacement conservatory or need a new installation, we will be able to help.

Exquisite Conservatory Styles
We bring you a fantastic selection of uPVC conservatories from Ultraframe and Opus conservatories which are a clever combination of timber and aluminium. Both these industry-leading companies are known for their durable products and high-performing features. In fact, you are sure to get a glazed extension that is highly secure and thermally efficient.
Additionally, you get your pick of conservatory styles to choose from.
Lean-To Conservatory
The lean-to conservatory is a simple yet elegant style that is quite popular. Its uncomplicated shape makes it ideal for smaller properties as well as buildings where other shapes might not fit. Due to its simplicity, it is one of the best-priced conservatories you can get.
Edwardian Conservatory
The  Edwardian conservatory style is made up of a square floor plan with a gorgeous double-hipped roof. This is a beautiful design that is well-suited to homes with higher roofs.
Victorian Conservatory
The Victorian conservatory is the most popular conservatory extension style in the country. It features a spectacular bay window along one side, making it different from the other square-floored conservatory styles.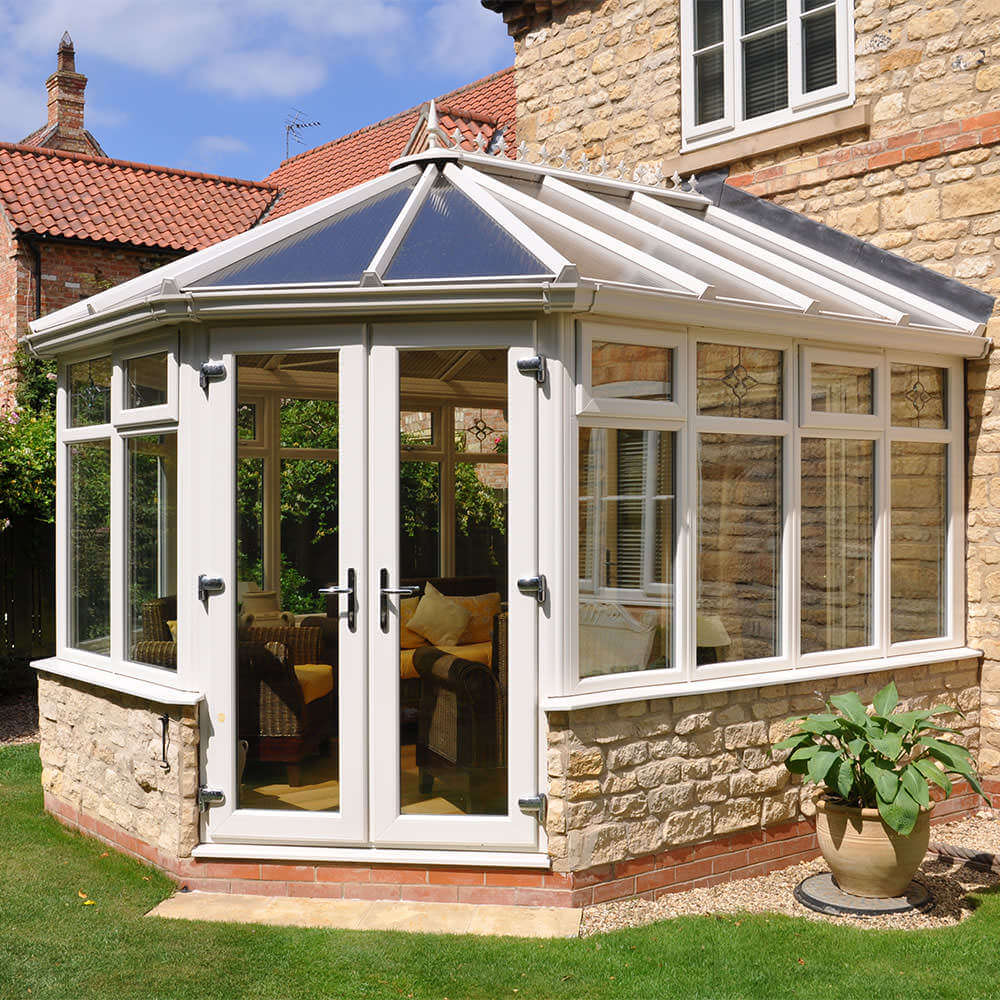 Gable End Conservatory
The Gable end conservatory is immediately recognisable because of its dramatic roof design. The two slopes of the roof meet in a large triangle in the front. Additionally, the roof can be as high as your Collingham property's roof allows. This makes this an ideal extension for large homes where the design can be displayed without overpowering the rest of the architecture.
P-Shaped Conservatories
A P-shaped conservatory is a composite style created by combining a square-shaped extension with a Victorian conservatory. This is an effective way of utilising the space around your home efficiently.
Bespoke Conservatories
If your Collingham property cannot accommodate any of these standard shapes, we are also happy to work with you to create a bespoke conservatory style. Our designers will work with you to create the shape that works best for your needs.
Orangeries
Orangeries offer a sense of permanence which glazed extensions might not. These beautiful conservatory extensions are perfect for areas that get too much sunlight, or where you want privacy.
Further, you can tailor these extensions with the roof of your choice. If you aren't happy with a clear roof, we offer tiled roofs as well.
High-Performing Conservatories for You
Whether you choose a uPVC conservatory, you will get great features either way. Each of these conservatory extensions is designed to give you a comfortable space you can enjoy at all times. For this reason, we ensure that your extension is installed to be weatherproof and warm. Our uPVC profile uses an innovative multi-chambered cross-section to create insulation. These chambers help trap air and create a barrier for the heat.
Moreover, when we install them, we ensure that the conservatory is effectively sealed from draughts as well as rainwater seepage. As a result, you can enjoy your extra space in any weather. Our FENSA-approved installation will ensure that!
Additionally, our products are known for their resilience and sturdy structure. This means that they are extremely difficult to damage. What's more, we fit them with high-security locking systems to give you another layer of protection.

Conservatory Prices in Collingham
If you're looking for a conservatory replacement or a brand-new glazed extension for your home in Collingham, you can get quick conservatory prices with us. You can use our online quoting engine to get instant estimates. Just enter your requirements and it will calculate your conservatory replacement cost for you.
If you need some questions answered before you can decide, contact us and let us know. Simply fill up our contact form and send it to us with your contact information. We shall get back to you with the answers you are looking for.
You can also get in touch with us directly by calling us on 0113 257 8933 where you can speak to someone from our team. Alternatively, you can also email us at info@double-glazing-leeds.co.uk and we will give you your personalised conservatory prices for your property in Collingham.