Edwardian Conservatories
Are you looking for a conservatory that will maximise your floor space and natural lighting? Do you enjoy the striking impact of a conservatory with clean, strong architectural lines? If the answer is yes, then the Edwardian conservatory could be the perfect choice for your home. Select Products offer a stunning range of high-performance Edwardian conservatories that will enhance properties of any time period and style.
An Edwardian conservatory from us can be customised with our extensive range of colours and finishes to blend seamlessly into your home, giving off a simple yet classic impression. Featuring a flat-walled design, combined with symmetrical shapes and delicate finishing touches, the Edwardian conservatory is beautifully understated. This means it will never go out of style, and you will be certain to enjoy its timeless aesthetics for many years to come.
Here at Select Products, we offer only the highest quality top-of-the-range products to our customers. All our conservatories are manufactured by Ultraframe, the world's leading conservatory roof supplier. Buying an Edwardian conservatory from us will give you the winning combination of our highly experienced installers and Ultraframe's first class conservatory roofing innovation. Don't take our word for it, read the many reviews from our satisfied customers yourself on Checkatrade.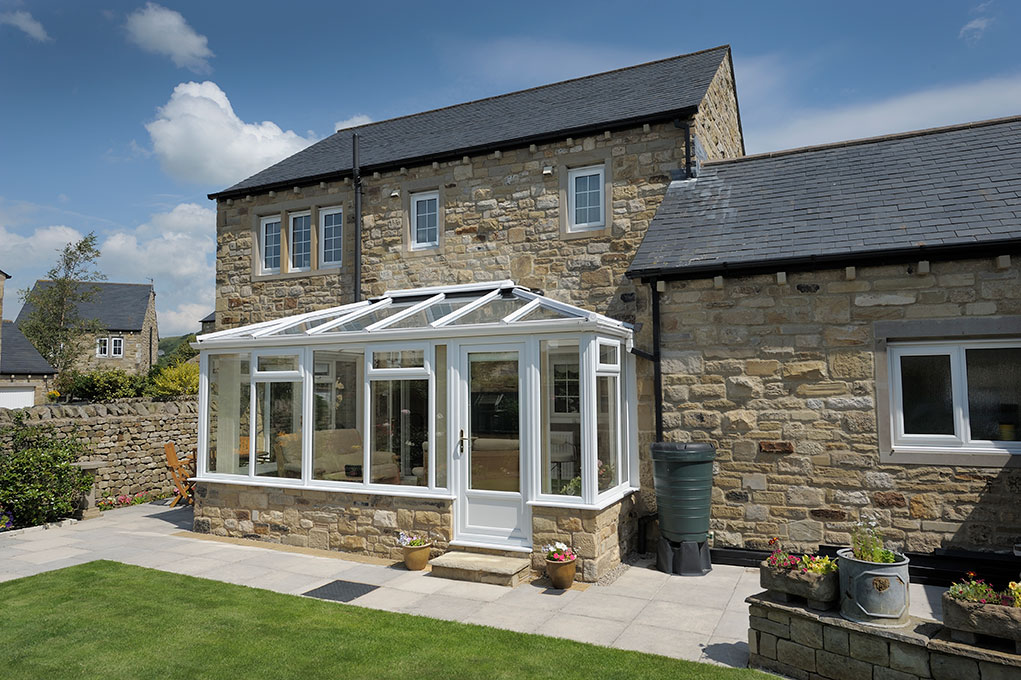 Our Ultraframe Edwardian Conservatories
The Edwardian conservatory's steeply elevated roof gives the illusion of increased space and provides a bright, airy atmosphere throughout the internal area. This makes the Edwardian conservatory an ideal choice for a variety of uses such as dining rooms, living rooms or even children's playrooms. The options to enhance your home are limitless with Select Products.
The Edwardian style is an ideal way to complement homes with low eaves or windows sills. Its sloping roof provides you with a wonderful vaulted effect, enabling maximum light to flood into your conservatory. In fact, this conservatory style was originally designed to house plants during the Edwardian times, so maximising sunlight has always been a structural necessity.
Not only are our conservatories headache-free, once you have your unique design installed you will never have to worry about repeating the process again. All of our Edwardian conservatories have impressively lengthy lifespans that allow them to evolve with your family. As a guarantee of this to you, all our conservatories are assured with a 10-year insurance plan backed by Home Pro.
Purchasing your Edwardian conservatory with us means you can benefit from the BBA Approved installation expertise of our resident fitters, so unexpected draughts will never be a problem for you. This increase in insulation will also ensure that your conservatory stays warm for longer, and you could even enjoy a decrease in your heating bills during the colder months.
All our conservatories are built with high-security multi point locking systems fitted as standard to provide the ultimate protection to your property. The glass used throughout our conservatory range is also designed to be extremely durable and hard wearing to resist prolonged attack and is installed with internal beading to prevent the glass panes from being removed from the outside.
/>Choice of Edwardian Conservatory Designs
So, Edwardian conservatories sound great, but will they fit in with your home's existing character? Unsurprisingly, the Edwardian conservatory is guaranteed to be an unbeatable addition to properties of a similar era. This, however, doesn't mean that houses of different periods can't enjoy the remarkable charm and functionality of this ever-popular style.
The Edwardian conservatory's simple aesthetics allow you to add your own unique touches so that you can find the ideal combination to complement your home and individual style preferences. You can rest assured that this will never be the case when you buy a contemporary Edwardian conservatory from us here at Select Products.