An elegant piece of British architecture, the gable end conservatory is grand in appearance and will lend a classic touch to your property. Our gable end conservatories are particularly well suited to period properties, enhancing their stately feel and aesthetics.
Enhanced Sunlight
The gable end conservatory captures sunlight through its clever vertical roof design, creating a light and airy atmosphere. Adaptable, this Ultraframe conservatory can be built within many different properties, so everyone can benefit from this innovative design.
Design Versatility
Our gable ended conservatory can be designed to meet your needs, allowing you to personalise your conservatory with a range of ornamental styles. Many home owners favour the sun-burst effect, where the front of the conservatory incorporates an image of a rising sun.
Other homeowners prefer simpler designs and opt for subtle styles – whatever your personal preferences, Select Products can provide you with your dream gable end conservatory.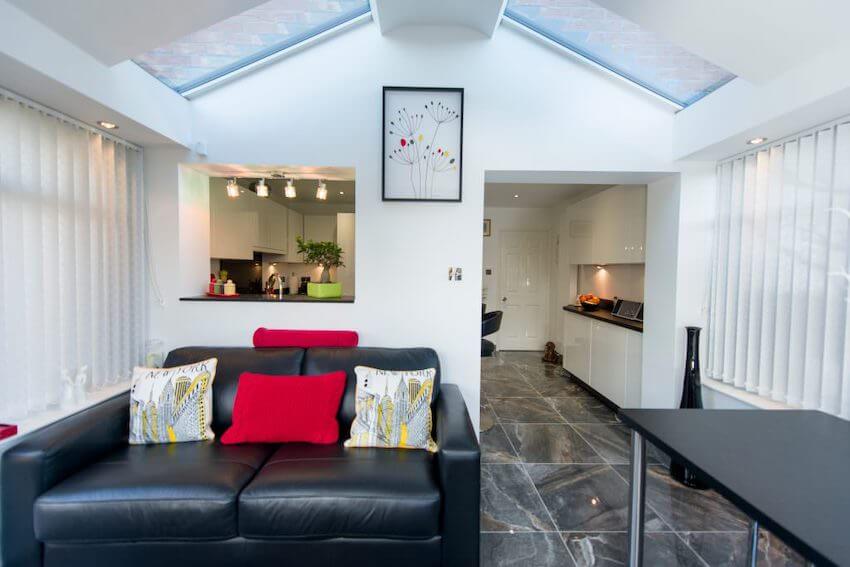 Exceptional Service
Here at Select Products, we are committed to delivering exceptional installation services. We pride ourselves on our high quality conservatories, and have many satisfied customers from the Leeds area. Select Products will certainly provide you with an expert and professional service.
A conservatory is a big home improvement, and when it comes to choosing a conservatory for your property, it is no light decision. Here at Select Products, we will help you every step of the way.
Gable End Conservatory Prices
We understand that you need to choose a style that is perfect for your home, which is why we can offer you beautiful conservatories at fantastic prices. Take a browse through our attractive collection; with such a wide range of conservatory styles available, you are sure to find a design that is right for you.
Contact us today on: 0113 257 8933 or through our online contact form and our friendly team will be happy to help with your enquiry.