Are Aluminium Windows better than uPVC Windows?
1st April 2022 Comments

Here at Select Products, we offer plenty of aluminium windows for your home. An ever popular choice, they provide many benefits for your home. They are closely followed in popularity by uPVC. But how do you know which one to go for? And are aluminium windows worth the money? In this article, we will compare both aluminium and uPVC windows to see which one is right for you. Read on to find out more.
When considering a uPVC window, they will offer excellent durability and are very strong. uPVC is an easy to fit robust plastic which is popular with builders. It is inherently strong thanks to its advanced double glazing because it brings loads of natural light into your home. Not only that, but this window will also ward off intruders as well. It gives you plenty of reassurance that even the craftiest criminals will not be able to enter your property.
uPVC is also a very customisable material because it comes in a variety of colours. You can come up with so many different colours, even dual colours as well. We offer a bespoke service where you can create the windows however you like. A uPVC window is much cheaper in comparison to aluminium; however it is not as durable. It is, however, much easier to clean in tough conditions because it requires a simple wipe down, and then it will look as good as new.

A uPVC window will also look very beautiful because it enhances your home's curb appeal. This will help when you sell your home because you will get it for more than what you originally bought it for. It will be a potential attraction to homeowners as well because they will see a strong window in your home that can keep you secure.
The window will also give you very strong ventilation as well. If you go for a tilt and turn window, it can open very easily because it tilts inwards, allowing fresh air to enter your home. In the summer, this can help you save money on energy bills because you will be able to benefit from draft free ventilation. In addition to this, you can also save money on air conditioning in the summer months, which is ideal because you can spend money on the things you like.
In comparison to uPVC, aluminium windows are much more expensive. However, they are a strong and precious metal, so they are much more durable in tough weather conditions. They won't rust, warp or fade, while also keeping you warm and snug. Your aluminium windows will benefit from polyamide technology which will create a robust thermal break in your windows. This, coupled with the warmth of aluminium, will help you and your family be comfortable for much longer.
Another strong benefit about aluminium is that it is very low maintenance. This will give you a chance to enjoy it for longer because it is very easy to clean. Just use a damp cloth with soapy water and then it will be as good as new. It also creates a robust thermal break which will help you save money on your energy bills and reduce your carbon footprint in the process. An aluminium window is also very suitable for a variety of designs, because of our bespoke service. We believe that every homeowner is different, and the same can be said of their aluminium windows. You can go for a variety of different colours ranging from bright and bold colours to more muted colours.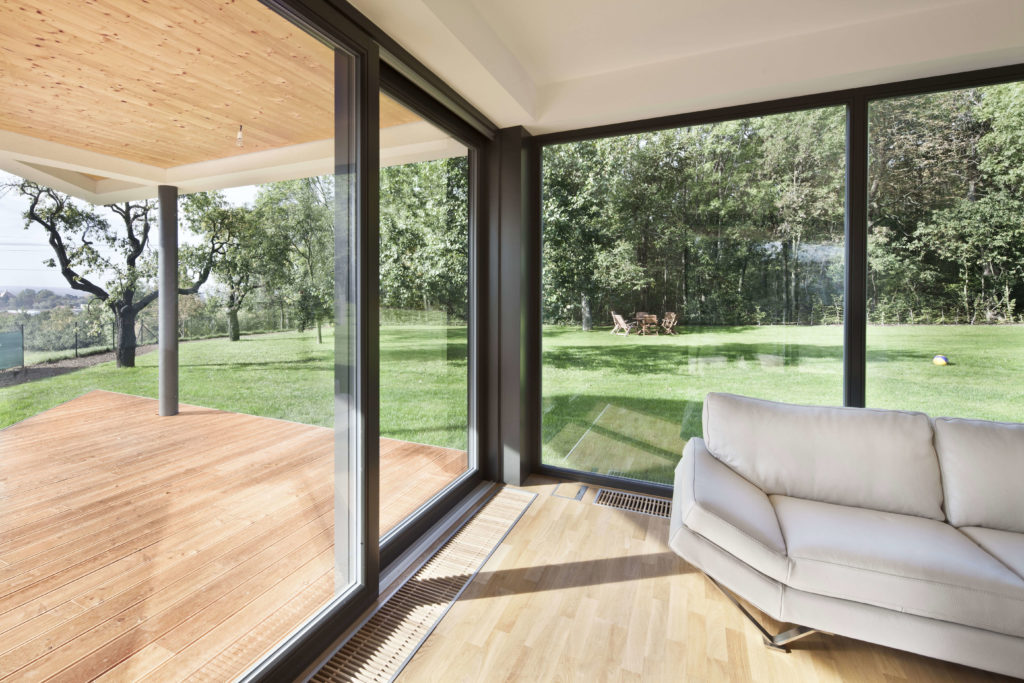 Your aluminium windows offer very sleek frames which help them become very attractive. This is down to their minimalist frames, which is not just good for your home, but also for contemporary properties as well. This is perfect because you can enjoy stunning panoramic views, and can bring a stronger connection to your garden as well. You can be at one with nature when you choose an aluminium window, while allowing more natural light to flow freely. This can have a positive impact on you and your home, while also saving you money on your energy bills. It helps it look sleek and professional in the long run.
As you can see, aluminium is a very strong material in comparison to uPVC. But which style should you go for? Ultimately, the choice is up to you. If you want to find out more information, you can fill in our  online contact form or call us on   0113 257 8933. Our friendly team will get back to you straight away.
Alternatively, if you want to build your door from scratch, you can look at our free online quote where you can design your dream door.